Metal Stud Framing Systems
Memberships
Steel Framing Industry Association
LIGHT GAUGE AND HEAVY GAUGE FRAMING
Custom Drywall has framed many types of interior light gauge stud conditions including walls to grid, walls to structure, soffits, ceilings, columns, and furring. With the use of computer-assisted tools, our layout is fast and accurate. Radius walls or arched ceilings are very popular and very doable with track bending tools and pre-manufactured radius track.
Custom Drywall is an industry leader when it comes to cold-formed metal framing. We've completed many different types of heavy gauge framing, including load-earing, balloon framing, header design, slip connections, kicked conditions, and various other types of framing conditions. Our trained mechanics know how to tackle the toughest jobs.
LIGHT GAUGE TRUSSES
Light gauge trusses are very common on our projects these days. With the help of our pre-manufactured truss companies, we're able to build a gable roof or mansard roof in no time. Just like the wood truss for a home, a light gauge truss will come pre-built and ready for installation. All engineering is done by the truss company and approved by the engineer of record.
LOAD BEARING WALL SYSTEMS
Custom Drywall is one of the first contractors in the state of Minnesota to build a load-bearing steel stud wall system. There are many types of load-bearing systems. Some actually use load-bearing steel studs and precast floors, others have load-bearing steel stud walls with C joists. 
There's also a steel stud load-bearing wall system that uses pre-manufactured steel floor trusses and another that uses load-bearing steel stud walls and engineered decking with poured concrete. Custom Drywall has completed many projects with all different systems and offers extensive experience working with the engineer of record to help design the most cost-effective system.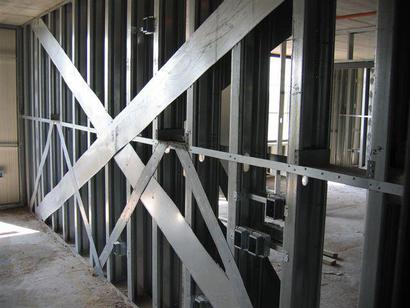 Metal Stud Framing Systems include:
Light Gauge Framing
Heavy Gauge Framing
Load Bearing Wall Construction
Light Gauge Trusses