Custom Drywall is a thermal and acoustical insulation installer in the Midwest. Our field and office team possess more than five decades of industry experience, providing us with a large knowledge base on a wide range of products.s. Custom Drywall only uses insulation from quality manufacturers. Our projects range from large, high-profile jobs to small local ones. By staying up on industry trends and using our experience in the industry, we can install a variety of insulation types.
BATT INSULATION
Batt insulation is pre-cut, fiberglass or rock wool insulation. Depending on the client area some batts come with paper or foil facing and some come without facing. Batt insulation comes in different R-values, which measures the thermal resistance, the effectiveness to prevent heat transfer of the material. The R-Value increases with the density and thickness of the insulation. A higher R-Value means better insulating properties.
RIGID INSULATION
Rigid insulation is rigid panels of insulation. The most common material used in making foam board include polystyrene, polyisocyanurate, and polyurethane. They are very effective in exterior wall sheathing and provide good thermal resistance, and reduce heat conduction through structural elements, like wood and steel studs.
Closed Cell Spray Applied Polyurethane Foam Insulation
SPF is a modern, durable building application used to save energy and improve indoor air quality while keeping occupants safe and comfortable.
The US Department of Energy reports 40% of energy costs to heat/cool a structure is wasted by uncontrolled air leakage. Uncontrolled air leakage also contributes to premature building deterioration, condensation, spalling ice damming, and moisture damage (spf.basf.com/faq).
Custom Drywall offers industry-leading products to help keep construction costs down due to better yields, efficiency of application, safety, and product versatility.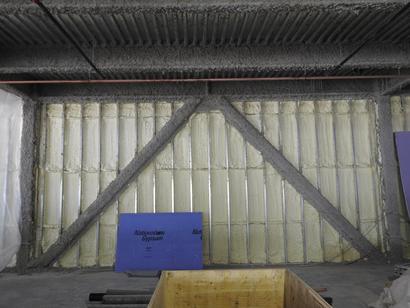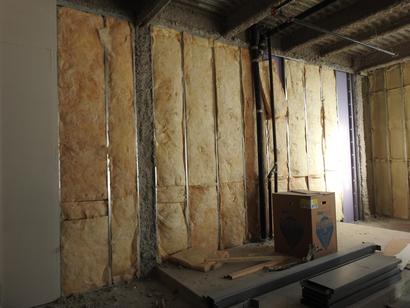 Types of Insulation:
Batt Insulation
Rigid Insulation
Spray Foam Insulation
DOW Thermax Wall System